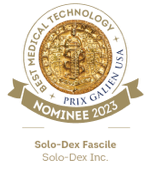 Solo-Dex Nominated for Prestigious
2023 Prix Galien USA Awards
Solo-Dex, a leading innovator in the healthcare technology industry, is proud to announce its nomination for the esteemed 2023 Prix Galien USA Awards. The Galien Foundation has recognized our significant contributions in the "Best Medical Technology" category.
Read More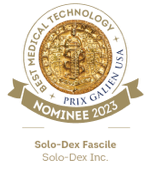 FDA Cleared (K151072)
CE Marked
MRI Compatible
Halal Certified
US patent 8986283
and other
patents pending
Bringing Innovation to the Pain Management Market
The SOLO-DEX Fascile catheter over-the-needle technology allows operators to place the facile continuous peripheral nerve block catheter in just 5 minutes for procedures such as shoulder repair, hip and knee replacement and general surgical procedures. The modified Touhy tipped needle and optimal stiffness optimize placement.
Once placed, SOLO-DEX catheters remain in place. Fascile catheters allow for the continuous modulation of medication for days of pain free recovery. Medication delivered by the Solo-Dex Fascile catheter may be adjusted for optimal timing, dilution and volume. Facile catheters have multiple distal holes for improved spread and less occlusion. Complex manipulation is not required with a Solo-Dex Fascile placement. One hand is on the ultrasound probe, the other on the catheter. To release the catheter simply withdraw the needle.
Sophisticated design does not need to be complex. The patented Fascile Catheter System is the new standard of care for acute pain management because it is fast, simple to use, reliable and stays in place. Designed by anesthesiologists for anesthesiologists.
Why
SOLO-DEX Fascile®

– the new standard of care for acute pain management?

Sophisticated design does not need to be complex. Solo-Dex was designed by anesthesiologists for anesthesiologists. Their mission: to develop the simplest, highest performing catheter for cPNB. The result, an MRI compatible, echogenic cPNB device that is inserted using one hand, by a single operator, using ultra-low doses of the local anesthetic solution, and without the need for sterile drapes or gloves. The Solo-Dex products includes a variety of catheter products suitable for various procedural applications and anatomical variation.

Solo-Dex cPNB kits are uniquely MRI compatible, contain the components required for placement, are single use, sold sterile and feature a modified Touhy tip needle, with a fenestrated, memory curve catheter, luer connectors, a filter, connector tubing, tubing blocks and catheter securement devices.
Avoids general anesthesia risks
Trims surgical recovery time
Accelerates surgical discharge
Reduces the need for opioids for days of at home recovery
Reduces clinical costs
Increases patient satisfaction
Reduces surgical staff exposure to infection
Patient Testimonial
"I was pleased that the Solo-Dex Fascile® nerve block provided continuous pain relief. If I needed more pain management, including general anesthesia, it was available to me. I used the Solo-Dex Fascile® system for four days after the operation. I was able to begin physical therapy two days post-op which sped up my recovery process. I never felt the need to take the opioid medication that was prescribed by my doctor. I removed the catheter myself at home. The system was very easy to use and lessened my anxiety regarding pain from the surgery."
B.B. - Rotator Cuff Surgery